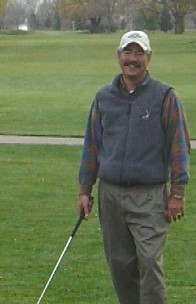 The Bogey Golfer © is Martin Nielsen.
My main qualifications for this column are:
an 11.5 handicap index
a nagging tendency to miss four-foot putts
a sense of humor that's been finely honed by the ridiculous game of golf
I first took up golf in 1987, right before the stock market crash. When the bottom fell out, I bought a hundred shares of my favorite stock, waited for the dead-cat bounce, immediately sold it, and bought my first set of clubs.
I fight an outside-in swing path, and have a great deal of trouble with lag putts. Twice, I've holed an approach shot on a par 4 for an eagle (on the same hole!), but haven't ever managed a hole-in-one.
I live in Loveland, Colorado, USA. The courses here are excellent, and so is the weather! (Usually...)